"Creative Crochet," first published in 1973, is now available on CD!
Notice: June '06
Orders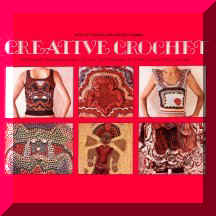 Contact Information
Nicki Hitz Edson
9317 Lima Terrace S.
Seattle WA 98118
(206)723-8331
Nicki Hitz Edson
Fiber Artist
Pine Lake
Nicki Hitz Edson is well known for her knitted kimonos and crocheted masks. A student of nature, art and myth throughout her life, she has incorporated themes from these sources into her designs. Nicki now is making beautiful knitted coats, and tapestries, as well as Pet Portrait Pillows. Abby, her fuzzy dog, was the inspiration for the first pillows. Now she falls in love with each dog (or cat) she puts onto a pillow. Her work has been shown in galleries and museums all over the world and featured in several publications.
On a more technical note, all Nicki's work is knitted on a Passap E 6000 knitting machine. The fabric is knitted in a double-knit, jacquard technique. Knitting with light wool yarns, this makes a soft, durable, light and stable fabric, good for hanging on walls or on the body.
The designing is done on a computer and translated to knitting software for the machine. Nicki's earlier knitting was done before personal computers were common, and knitted on a punch card machine. The computer has shortened the time of the actual labor and allowed more freedom in the design process. Nicki says it has made it a lot more fun!
For more information, click on Résumé page.
Photographers:
Craig Richmond, Seattle
Tidemark Communications, Kenji Tachibana, Seattle
The Artist, and sometimes her friends, who are also sometimes the models.